We've all heard the saying "if mama ain't happy, ain't no one happy." I don't like that saying. It brings to mind the mother that the whole family must cater to; life is miserable for the rest of the family if mom is not happy, getting what she wants or doing what she wants. That is just not what we as christian wives and mothers are called to be. We are to be putting the needs of others first (Matthew 22: 36-38); caring for our husbands, children, and homes (Titus 2:4-5). However as with any good lie there is some truth to it.
When mom is tired from too little sleep, sick from poor nutrition, emotionally drained, and feels frumpy and ragged she tends to be a bit unhappy. Maybe more than a bit unhappy? Downright grumpy and snappy?
Mom sets the tone in the home
, so when she is not happy it is hard for the rest of the family to be happy. It can be hard to find that balance at times; new babies wake us in the night, our children need direction and love almost constantly, and then there is the "endless" work around the house. It is important to take care of ourselves so that during those times that life really gets crazy we can handle it and keep a tone of peace, joy and love in our homes.
In the coming weeks and moths I'll be doing some posts on some of the simple things I've been doing to take care of myself so that I can take care of my family.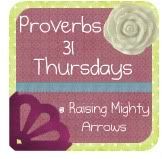 >